TIME PERSPECTIVE
short- and medium-term (1-5 years, 5-20 years)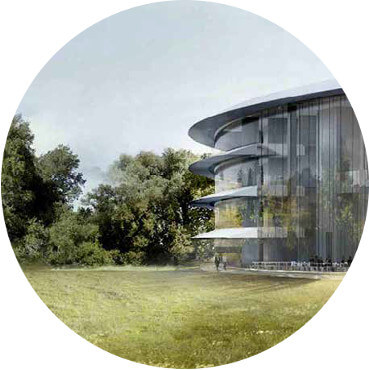 "People are going to be increasingly aware that green infrastructure and ecological standards in cities are not only important—they are necessary, including for their health and well-being."

The In Symbiosis with Nature scenarios assumes that in the future all buildings and cities will be obligated to use solutions based on so-called green infrastructure. It is going to be connected with a complete change of the way people think and their intense need to return to nature. We have been an urbanised society for only 150 years. According to the UN, in 2050 as much as approx. 70% of people around the world are going to be living in cities. A loss of direct contact with nature takes a toll on our health and well-being (diseases related to contemporary civilisation, including depression) and productivity.
The scenario assumes that people are going to be increasingly aware that green infrastructure, environmental policy and ecological standards in cities are not only important—they are necessary, including for their health and well-being. A good example is set by places and buildings which maximise benefits for people while minimising their impact on environment and the planet. Sustainable green development will allow the world to significantly limit CO2 emissions and use of non-renewable energy sources, contribute to improved air quality or counteract negative effects of advancing urbanisation in general.
It will be dominated by the so-called biophilic design which has already introduced elements of nature into the work environment, which is going to start constituting an integral component of space outside and inside buildings. Green terraces, green roofs, façades covered with vegetation, internal or external gardens, walls covered with plants—all of that will make the presence of vegetation more than just a decorative element. Its soothing effect on human psyche or the quality of air at the office is going to be appreciated. Plants located on a façade—apart from their aesthetic value—will help reduce air and water pollution, noise and contain dust. This, in turn, will translate directly into the quality and comfort of use of space and it is going to become a sort of a live thermal insulation.
Back to nature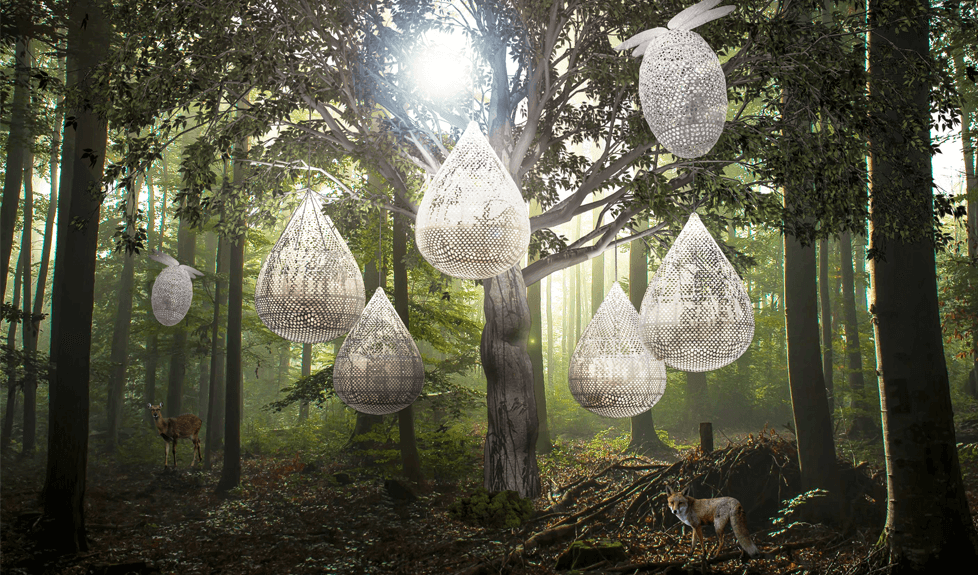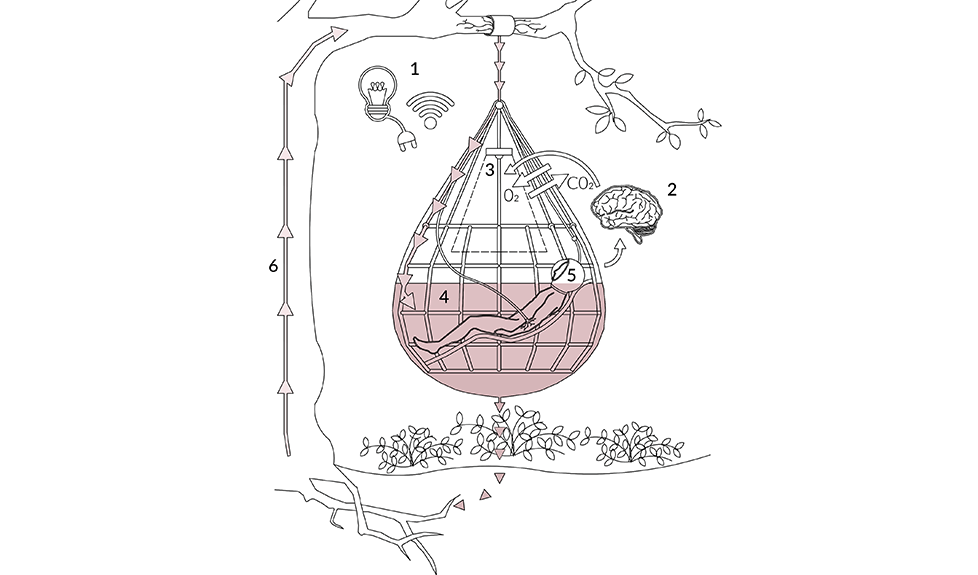 Authors of the design: Anna Radziemska, Joanna Pasymowska, Faculty of Architecture, Gdańsk University of Technology
The workplace is an organic cocoon, the structure of which is made of bioplast, while its "façade" is made of fibres which can perform gas exchange processes. Inside the cocoon there is a nutrient which stimulates human body and supplies it with necessary substances. Work is performed through a hologram which reads human thoughts and records them. Instead of working all year long, people work very intensely, but, for instance, only for a month.
Flying tommorow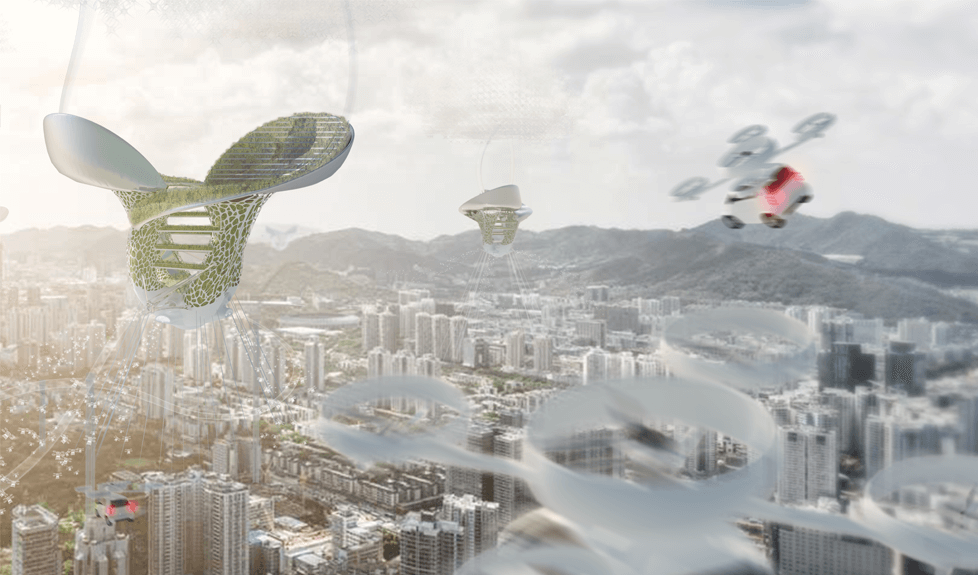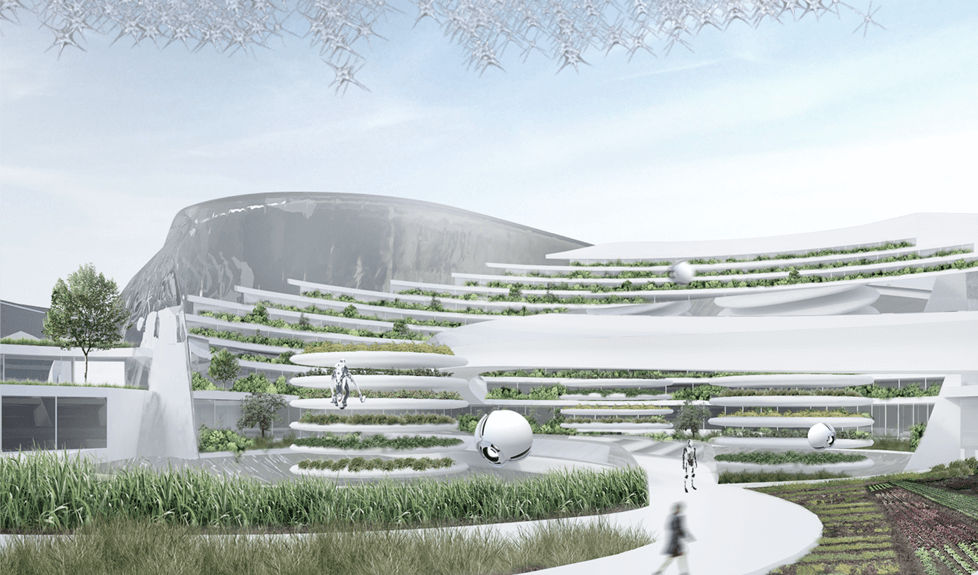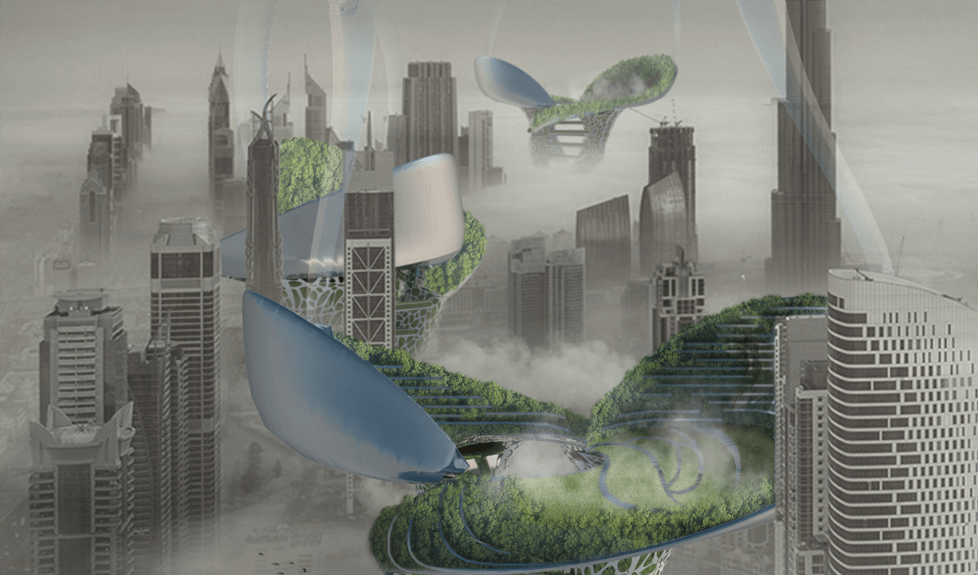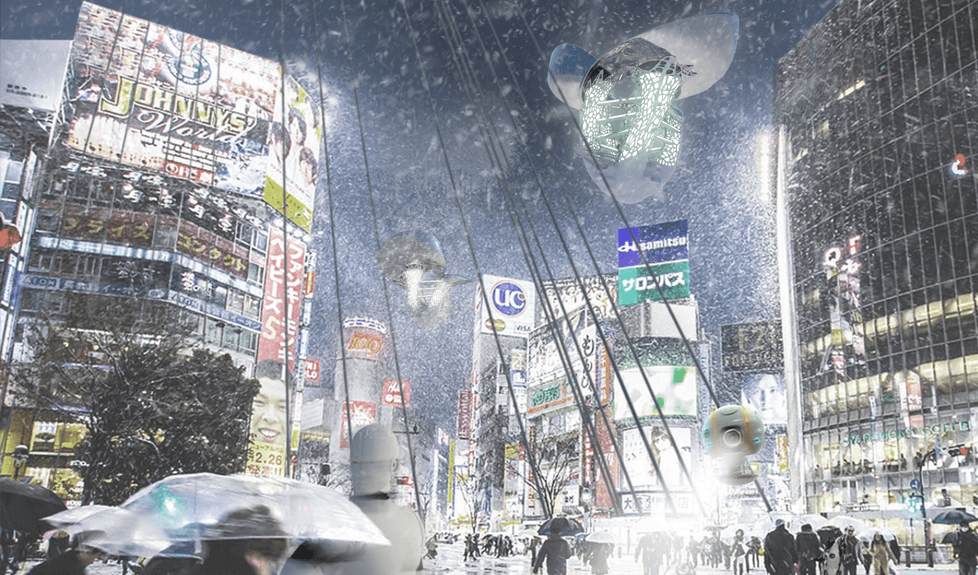 Authors of the design: Jakub Sokólski, Łukasz Staniewski, Faculty of Architecture, Gdańsk University of Technology
Office buildings are going to be floating owing to helium with which balloons will be filled. Office space will be adjacent to green terraces, and there will be some space designated for cultivating crops at the upper level. The hyperloop will enable reaching the speed of sound, approx. 1,200 km/h. It is going to be both as quick as flying means of transport and inexpensive as road transport.
Full description in the Report.
Building of the future 2067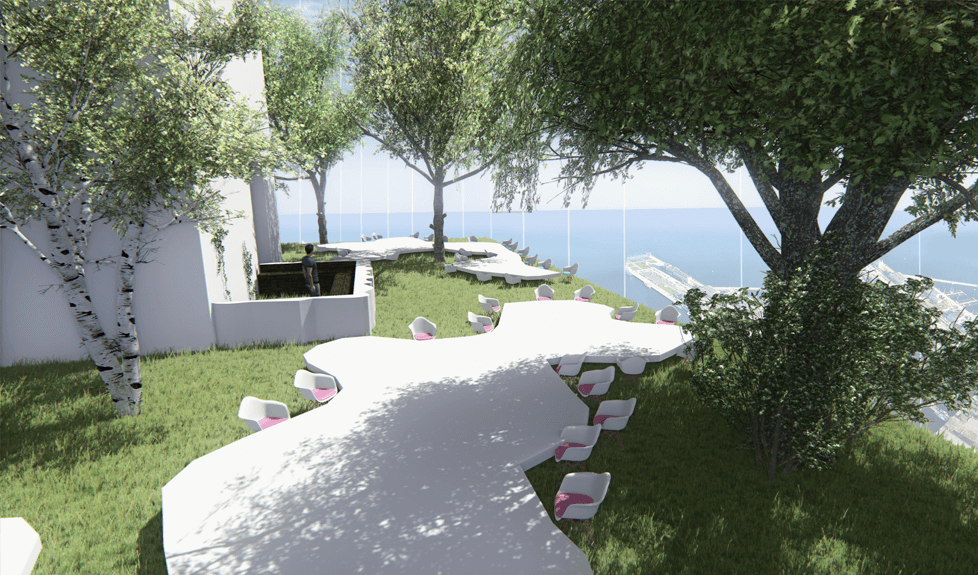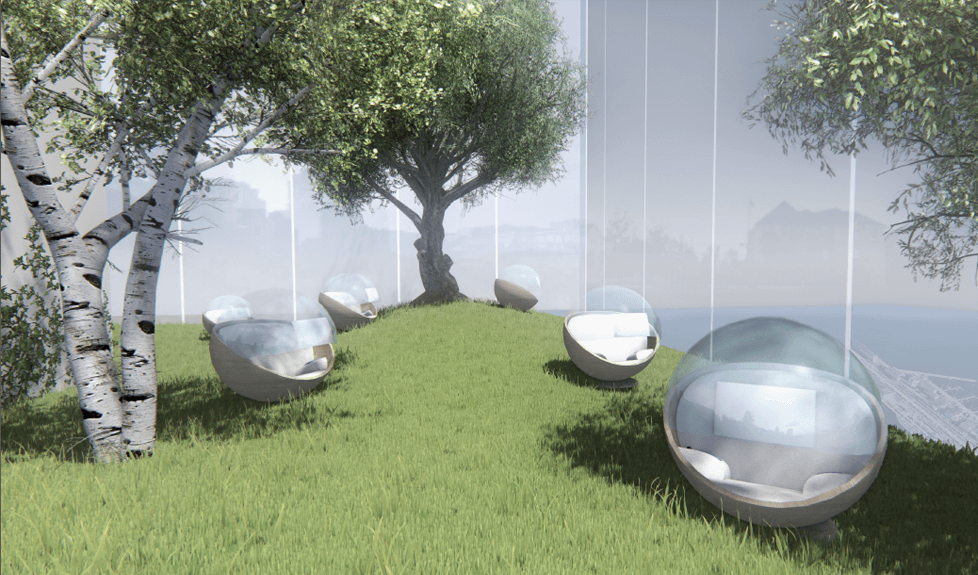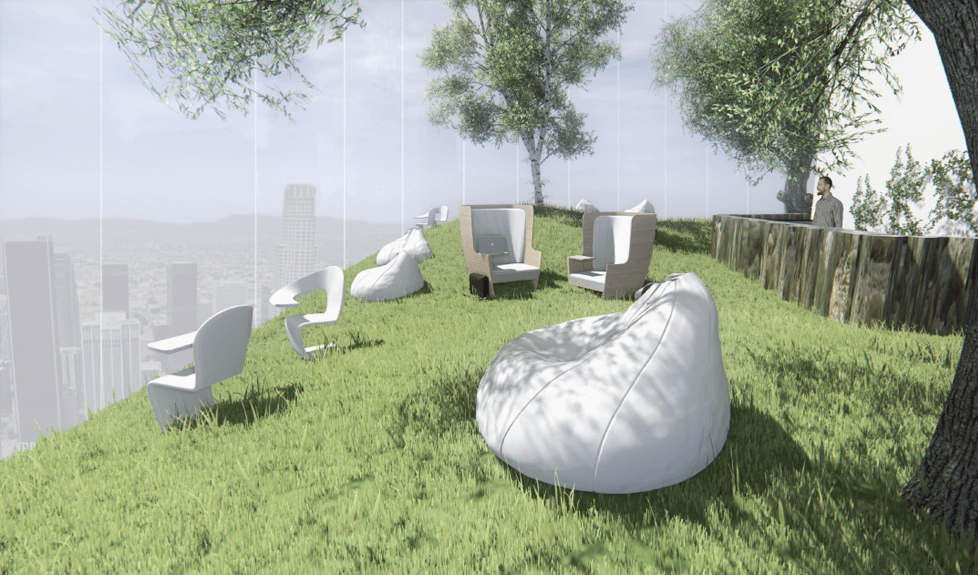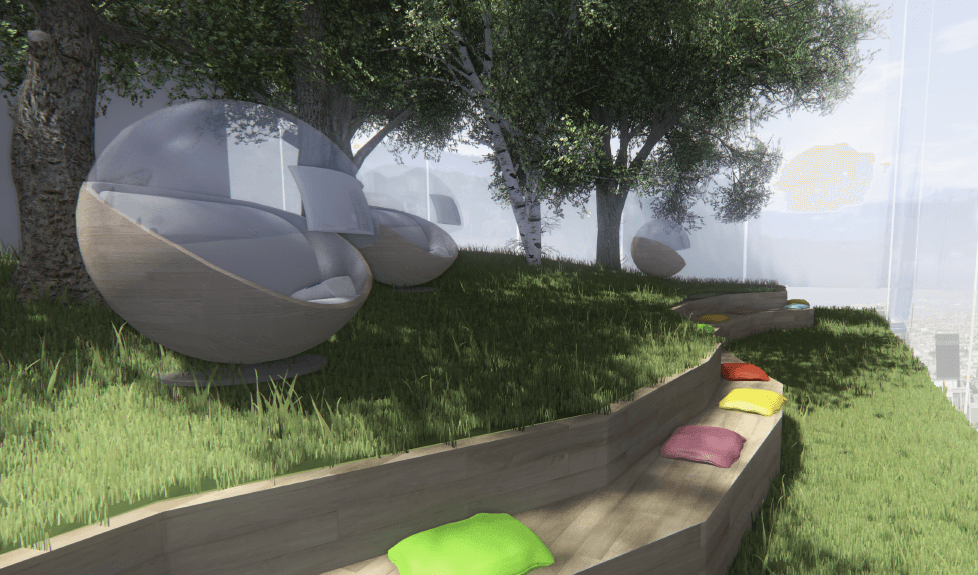 Author of the design: Katarzyna Szostak, Faculty of Architecture, Gdańsk University of Technology
The building combines space for work and recreation. The issue of excessive shading within cities can be resolved using external walls made of milk glass. Building's operation involves using components such as rainwater and wind energy as well. It is a building, which can be visited by anyone, who can sit there and work. It challenges the previous division and hierarchy (the higher the floor, the more "important" the person).
Full description in the Report.

Siemens Headquarters, Munich (Germany)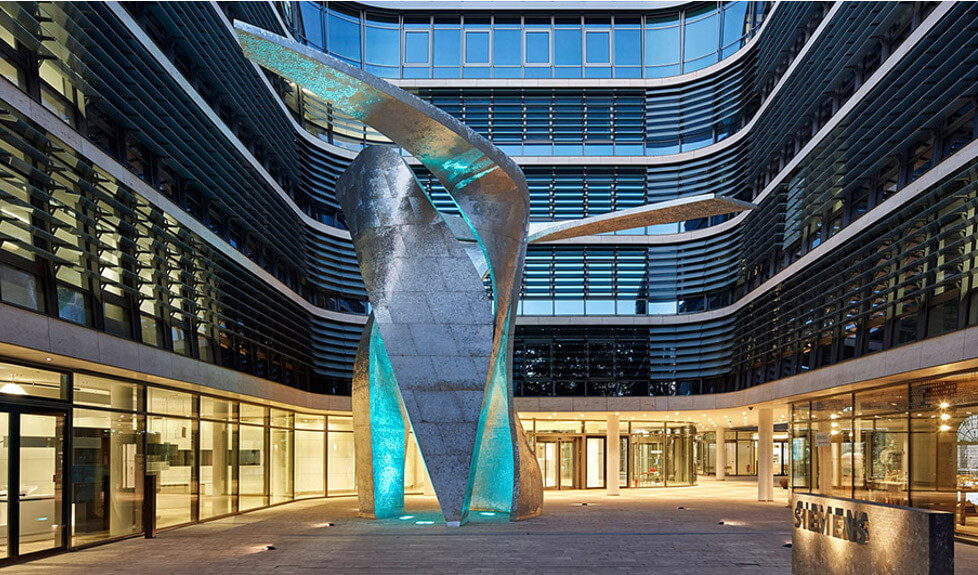 Proj. Henning Larsen Architects, Źródło/Source: www.henninglarsen.com
Siemens is planning to become neutral for the climate by 2030, thus the new building (opened in 2016) fulfils the highest standards connected with sustainable development and energy efficiency. The special system for controlling lighting enables using daylight in an optimal way. There are 800 photovoltaic cells installed on the roof. Their area is over 1,300 m2. They supply energy to the building. The building uses heat accumulated in the ground for heating and air conditioning.
Full description in the Report.
Sasol Place, Johannesburg (RPA)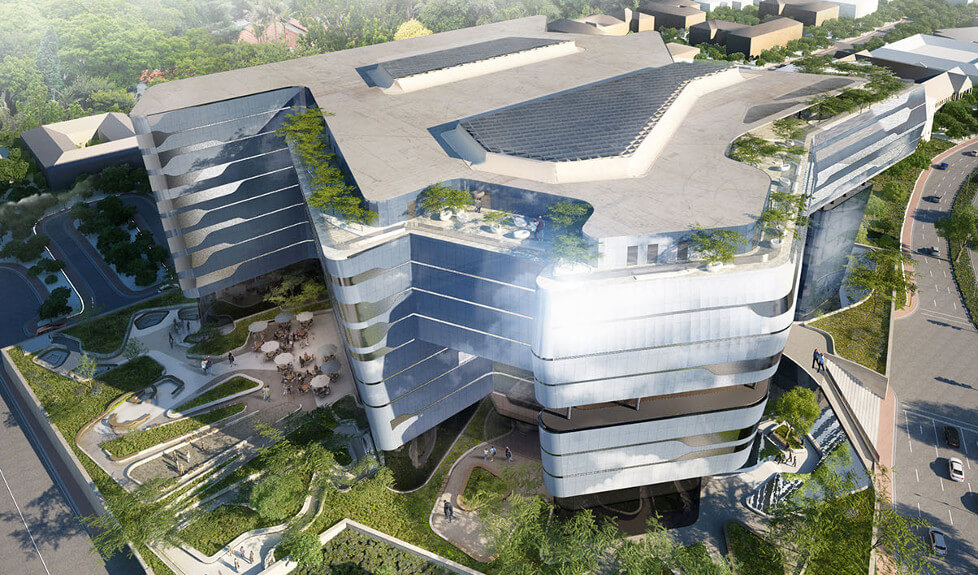 Proj. Paragon Group, Źródło/Source: www.paragon.co.za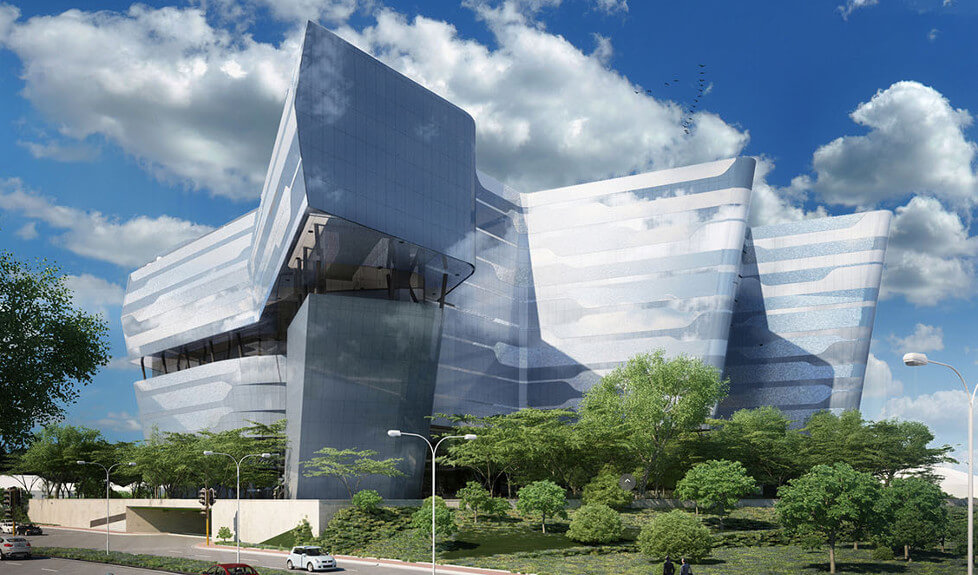 Proj. Paragon Group, Źródło/Source: www.paragon.co.za
Smart management systems automatically regulate not only lighting, but also air conditioning, blinds, the use of water, stairways and lifts at this place. Around the complex and on its roof, there is a green area composed of local plants. Sasol Place became a place for the biomass of wild animals, insects and birds. The glass lining of the building increases its aesthetic value and its ability to blend in with its surroundings.
City Hall, Venlo (The Netherlands)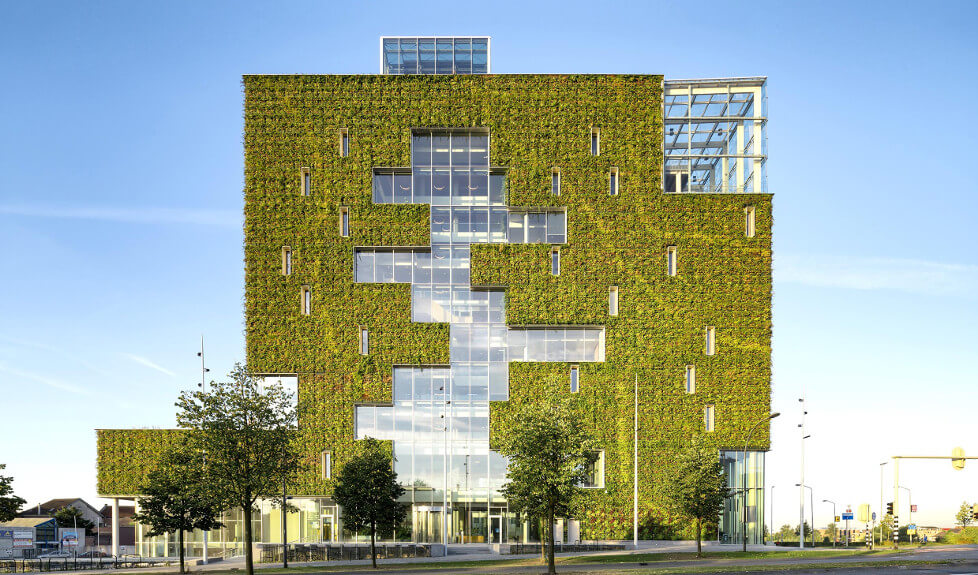 Proj. Kraaijvanger Architects Źródło: www.kraaijvanger.nl Foto: Ronald Tilleman
Venlo is the first region in the world that fully complies with the Cradle-to-Cradle (C2C) concept. All products and materials at all stages of use must be 100% reusable and environment friendly. The most striking feature of the building is its green façade (200 m2) composed of 100 various types of plants, which contributes to biodiversity and cleaner environment.